Universal Life
Insurance with LTC:
A Trustmark
Story
Trustmark Universal Life Insurance with LTC
A Trustmark Story
Greg and his wife Alicia got Universal Life policies with benefits for long-term care services.
Long-term care services and home health care services aren't only for the elderly – people of any age, like Greg and Alicia in this story, may end up needing them. Universal Life policies that include benefits for these services can help with the costs.
Greg and Alicia both enrolled in Universal Life policies with $75,000 benefit amounts. When Alicia was injured and needed qualifying services for a year, Trustmark paid her 4% of her benefit amount per month, starting after she received care for 90 consecutive days.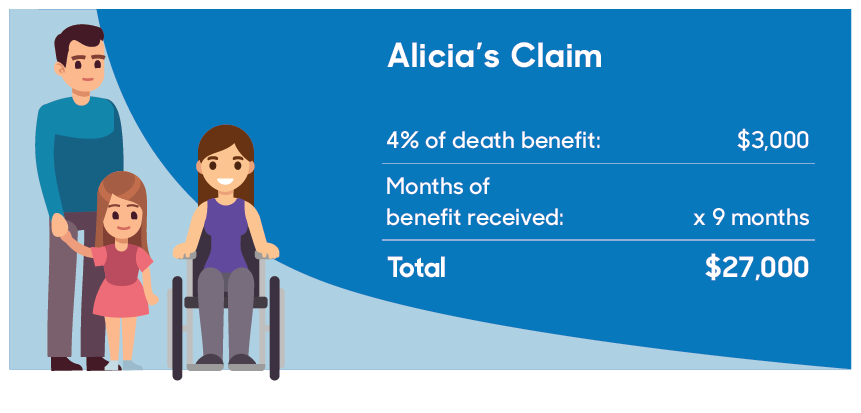 Still need more details? Keep exploring this site, or get in touch with your benefits representative to get everything you need to make the right choice for you and your family.
Benefits for long-term care services are not included with all Universal Life and Universal LifeEvents® plans. Example of claim paid is for illustration purposes only and there is no guarantee all claims will be paid the same way or format, or pay the same amount. The LTC Benefit is an acceleration of the death benefit and is not Long-Term Care Insurance (except in FL, LA, NC and VA, where the LTC benefit is Long-Term Care Insurance.) It begins to pay after 90 days of confinement or services, and to qualify you must meet conditions of eligibility for benefits. The LTC benefits provided by this policy may not cover all of the policyholder's LTC expenses. Pre-existing condition limitations may apply. Benefits may not be available in all states or may be named differently. Your policy/certificate will contain complete details. You should consult a financial advisor to determine if the long-term care benefits and the retirement benefits provided by this policy are right for you. In FL, the LTC benefit is an Accelerated Death Benefit. In NY the LTC benefit is a Convalescent Care Benefit. In MA, the LTC benefit is an Accelerated Death Benefit for Chronic Illness.
© 2019 Trustmark Insurance Company. Underwritten by Trustmark Insurance Company, Lake Forest, Illinois. In New York, underwritten by Trustmark Life Insurance Company of New York, Albany, New York.
Trustmark® and LifeEvents® are registered trademarks of Trustmark Insurance Company.
This page is not filed for approval in KS, MA or NC.
A112-2436-care-story